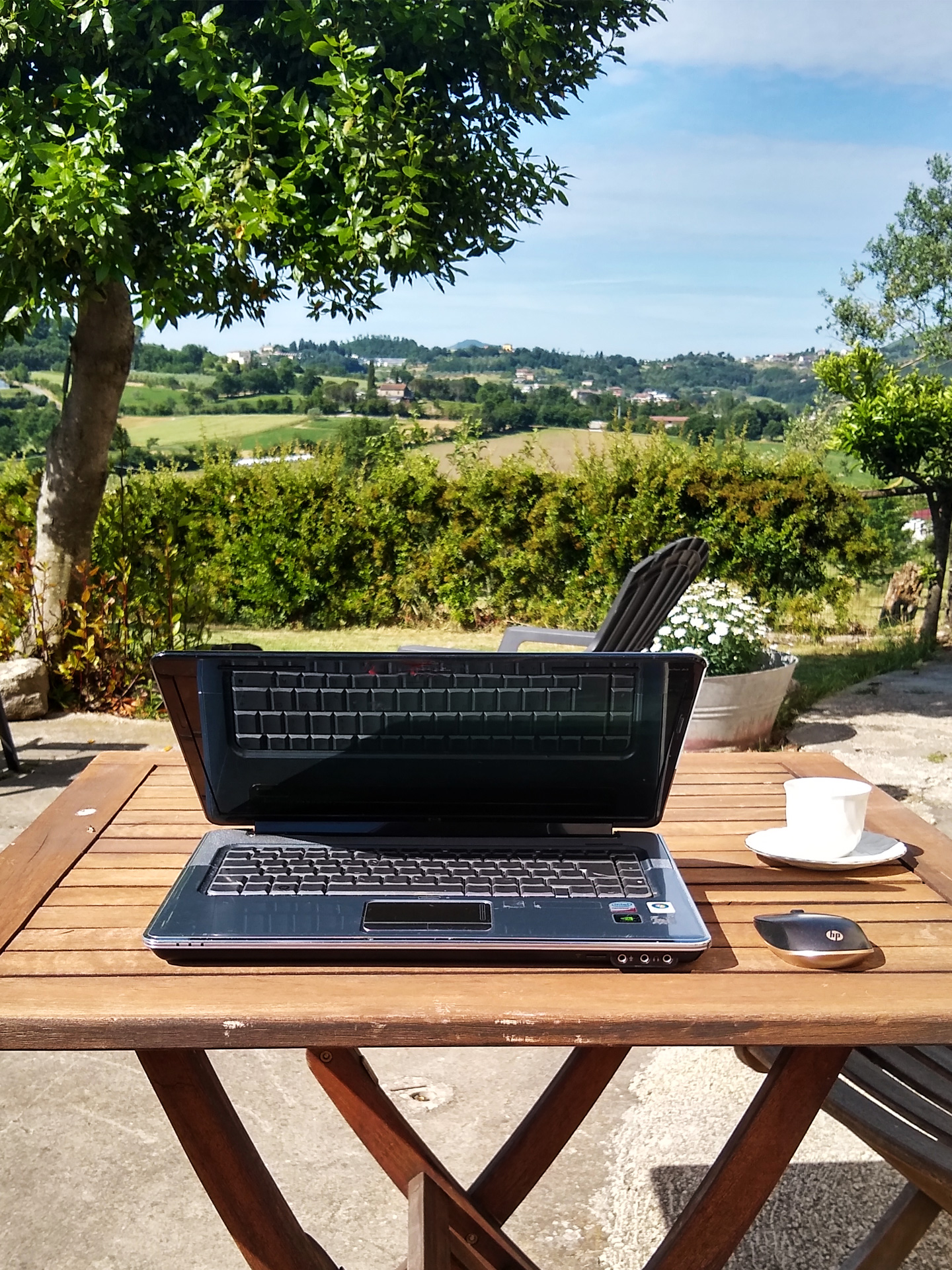 We are in an era in which we have the technology to work anywhere, whether our work tool is a PC or a tablet or other similar device. At the same time it is also the era of the return to the land, to nature and to a more genuine lifestyle.
There is a growing desire to experiment with innovative ideas that reconcile the need for a fast and stable connection with that of exploring a natural territory, "on a human scale", it was said not so long ago. This is how new trends and impulses arise both for innovative entrepreneurial forms and for alternative forms of life, work and citizenship. After some analysis, we decided to develop an idea and work on a project, in the wake of some of these trends. A work in progress that is expressed by proposing a simple but never predictable idea, with the resources we have to be able to do it and in the meantime we continue studying for a more demanding project.
We made our own the concept of "Slow-Working", which represents the synthesis of a rural stay experience with the need to keep a smart working process active, but then we went further. Our idea, our stay proposal starts by default with the possibility of working in smart working during a stay in our structure, in an available study corner or outside, wherever you want to be, listening to the birds singing and the countryside life. The innovation of our idea concerns many aspects. Some are still to be developed, others are immediately available. Among the latter, we offer the possibility for those accompanying the smart worker to be able to devote themselves to other activities such as crafts, walking, reading. The smart worker himself can delay work times with moments of leisure, relaxation or activities outside the structure, for example with our e-bikes. By agreeing on a number of details in advance, we can offer a personalized stay that meets the needs of our guests and allows them to maximize the benefits. We also cultivate a local network with companies and other companies for which it is possible to plan and implement a stay that includes visits to companies of typical local products, dinners in a farmhouse, pizzeria or other local in the area, but also mini-tours in the countryside in collaboration. with small local farms, tastings or visits to buy native products. Outdoor experiences such as canoe trips or mountain excursions, visits to historic villages.
This type of stay offer can be defined as "holiday working". The development of this proposal, which in fact is already available in other structures in Italy and in Europe, can in turn be enriched by other initiatives, aimed at maximizing on the one hand the professional results and on the other the psychological and physical well-being. of the smart worker. We are working on these and other aspects to define possible strategies and practical methods of intervention.
Starting from such a basic concept as Holiday Working, we thought we would also offer the opportunity to experience real "slow work" by providing our guests with a strictly vintage typewriter but also simply pen and pencil and a ream of paper. We know that often when one is on vacation, one does a number of unaccustomed things, there is more propoension to do something new . Especially if the intent is to regain serenity and relax, this could be a way to have a new experience, which could be the beginning of a path to cultivate, or contruibute to make the stay memorable.
In terms of "RuralHub," as we like to call our Le Piracante project, we are looking at different possibilities. Another topic we are working on is that of co-working, in order to fill a typical lack in remote work, namely sharing, creativity and moments of conviviality that are often a critical issue in remote work practice.
How did this all come about?
I was looking for a desk, to offer the possibility for our guests to stay connected and be able to work remotely even during their stay, in a quiet corner of the B&B, with a nice view of the countryside. Not finding the piece of furniture I was looking for, I decide to purchase an antique sewing machine desk, to which I would add a wooden board and thus have a comfortable vintage desk. The collector I turn to also has some old typewriters. A lover of vintage, I get a couple from the 1970s. Thus was born the idea of offering our guests the opportunity to experience a mode of creative work or leisure using a typewriter. This is how our concept of "slow working" was born at Le Piracante.
To find out about our services and offerings during your stay, explore our website in the experience sections or contact us, and we will be happy to provide you with any useful information.