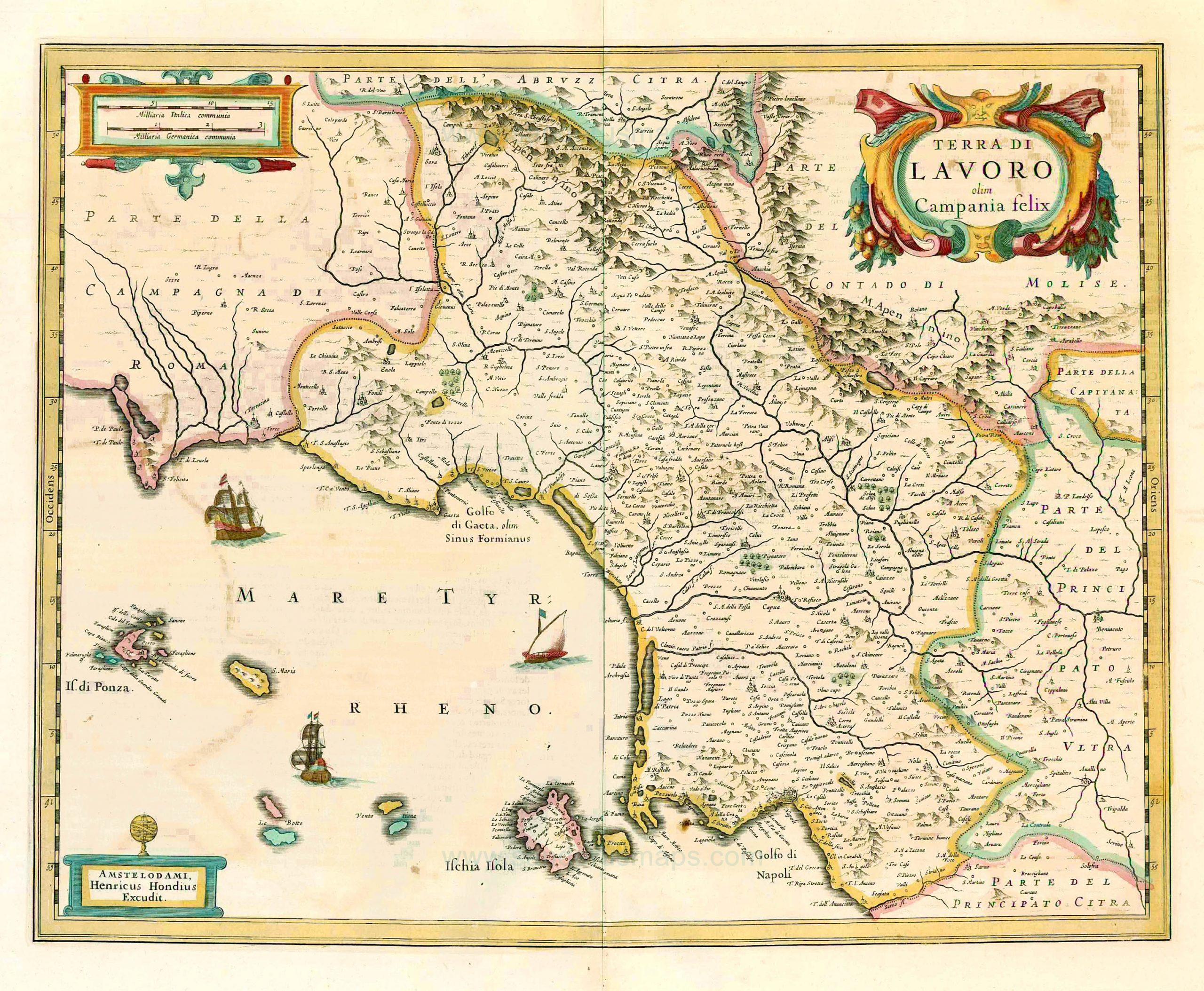 Where we are
We are located on the beautiful Caiatine Hills, in the middle of the beautiful Valley of the Middle Volturno, 3 km from the village of Caiazzo.
Le Piracante is a place to live at 360° , thanks to its resources and those offered by the area in which it is located, an ideal starting point for exploring the area of Alto Casertano and Alta Campania, but also the area of Caserta and Naples.
The territory of the Middle Volturno is located between the Apennines (Cesima-Matese-Taburno), the Pre-Apennines (Majuri mountain range), and the Antiapennines (Colli tifatini). The Volturno Valley, because of its openness to the passes between Campania and Abruzzo, and between Terra di Lavoro and northern Apulia, for being the best Rome-Bari route, had in military history the function sometimes of hastening, sometimes of delaying the war operations that took place in the Lower Volturno, on the Rome-Naples marching directive.
We sometimes imagine life in the time of the Borboni, through looking at the landscape that often reminds us of Hackert's beautiful paintings, and it happens that we find ourselves telling anecdotes and stories dating back to the great Kingdom.
We have some maps of the Third US Army Infantry Division, whose president was our guest, to explore the exact locations of the most important happenings and to follow the paths dictated by the maps.
Our geographical location is strategic and our facilities are ideal for those who wish to move comfortably around the area.
Our location gives us an optimal climate throughout the year, welcoming the sea breeze in the summer and being protected by the crest of the hill from the colder winds coming from the Matese massif.
We are about 3 km from Ruviano (as the crow flies even less) about 6 km from Alvignano. From our yard there is a wonderful view down the valley and the hills between Caiazzo and Alvignano. We have Mount Santa Croce in front and views of sunsets of incomparable beauty. A 20-minute drive takes you to Alife, a historic village that preserves buildings and part of the walls of the ancient Roman city, and a few minutes more to Piedimonte Matese, a small town with places of great historical and cultural interest.
The Matese Regional Park
Continuing upward, you can visit the villages of Castello del Matese, San Gregorio and thus reach Lake Matese, the largest karst lake in Italy. In summer you could experience a beautiful day with a canoe trip and nature walks. From our B&B it takes one hour to reach the lake without stopping. The itineraries , possible routes are many, follow us on the Blog and social channels for updates or book your stay at Le Piracante a little in advance so you can better plan your stay
Starting from Le Piracante and following the course of the Volturno River to climb the Matese mountains on the north/west side, you can visit the villages of Prata Sannita, Pratella, then reach the magnificent Cipresseta of Fontegreca (45 minutes from us) and then reach the beautiful village of Letino, its lake, castle and experience another day of great beauty.
We will be happy to provide you with directions and suggestions for choosing the most suitable route depending on the season, the time available and the type of experience you wish to have. Our suggestions may also include visits to the best local producers, places to eat and find refreshment.
We recommend that you be kind and responsible visitors so that the resources of the area can be admired and preserved, so that the delicate balance of the local ecosystem is maintained and perhaps improved.
Caserta/Capua area
During their stay, our guests can reach places of great cultural and historical interest such as the Royal Palace of Caserta, which is only 25 minutes away, or the Royal Site of San Leucio. Visits to the royal apartments and the Park can take up an entire day. Its history, luster, majesty and beauty give it a place of honor among the most beautiful and visited places in the world. The Royal Site of San Leucio is linked to the presence of the Royal Palace, being the "industrial" area of the time, where Italy's first industrial district was located, home to an ancient silk factory that was a worldwide reference for the quality and beauty of its craftsmanship.
Another destination we suggest to visit is the Campanian Amphitheater, second in size only to the better-known Colosseum in Rome, flanked by the remains of an even older amphitheater, it is said to be even older than the Colosseum and to have been the Arena of Spartacus If you proceed in the direction of Capua, in addition to being able to admire a town that preserves numerous elements of great historical and architectural importance, you can visit the Campanian Museum, where you can admire important fragments of our history.
Surroundings
From our B&B you can leave for pleasant walks. We suggest the use of Nordic Walking poles, which help to cover even many kilometers while limiting fatigue and promoting an excellent and complete sporting activity. If you are fond of walking, you could visit Caiazzo on foot, with a circular route. Alternatively, still on foot you could reach Ruviano or Alvignano, through mixed route between provincial roads (with little traffic) and internal and dirt roads.
Around Caiazzo it is possible to keep busy with visits to various local producers, choosing places to have excellent lunches and dinners and also ideal places for a picnic.
Our guests can also rent E-Bikes to explore the area, or they can follow routes and itineraries that we are always happy to suggest.
Another way to explore the area is by train. There is a railway line that connects Naples-Caserta- Caiazzo-Alife-Piedimonte Matese. a historic line, called "the Alifana," that would allow you to visit some places even without a car, or simply to enjoy the beautiful scenery cross the central part of the Volturno Valley. The station is about 2 km from us and has a very convenient parking lot.
You will therefore have understood that info and resources are available at our facility for exploring and getting to know the whole area, including visits to local Farms, discovering our food and wine resources. Just let us know your wishes or preferences and we will be happy to open the doors to this magnificent area of our region.
Valle del Medio Volturno
The Middle Volturn0 Valley is an area that preserves extremely interesting and valuable aspects, such as very low levels of pollution, absence of intensive cultivation, historic villages of great charm and historical and architectural interest, presence of indigenous local products, thus of a family-run, low-impact, high-quality agriculture. But also poor tourist vocation and other factors that have somehow contributed to isolating the area as a tourist destination, if not as a destination for that hit-and-run tourism that brings very little benefit to the area. Here people have always produced for self-consumption rather than for the "market." Today, local products from the area often cross even national borders, but they maintain a small "production dimension," always based on quality and not quantity, where the agricultural entrepreneur is himself employed in management and production. We sincerely hope that this will not change, that the men and women who with courage, strength and perseverance work these lands, will never accept compromises that can turn a small production of excellence into a kind of industrialization, even if on a small scale. We hope that local producers will have the foresight to understand that their wealth is dependent precisely on the fact that they are here and their products are only here and are in limited quantities. We hope that this land will no longer accept concrete and defacement, but only admiration and respect. We hope that those who govern these lands will understand their intrinsic value, fighting so that beauty and biodiversity are preserved.
Why come here, visit Caiazzo and explore the Valley and its hills?
1.The context: Take a journey into all-Italian beauty, the typical Mediterranean one, made up of landscapes, historic buildings, scents and flavors that exist only here. In the surroundings you can admire different landscapes, always beautiful, at every step. Observing the same landscape at different times, days and seasons is amazing. From the belvedere in our garden you can see a natural picture that is constantly changing. So we fell in love with this place and made the commitment to promote it, share it, protect it.
2.The ancient village (Borgo antico): Caiazzo has a historic village that was born on a Roman city. Although most of its most beautiful historical and architectural resources are not accessible, it is able to tell a lot of its history and is able to offer many resources to be discovered, in addition to the fact that even just strolling through the alleys, sit down for a coffee or enjoy a pizza, visit and admire the historic buildings, the cathedral, the squares, the glimpses and the panoramic views, it is worth the visit.
3.The rural area: All around the village, the countryside and the hills of Caiatine gently welcome visitors. Intense colors, splendid landscapes, a countryside that is still naturally fertile, beautiful, green. The countryside offers the possibility of a relaxing, slow, stress-free holiday. There is nothing superfluous, we work to produce what is necessary, through the repetition of cycles that are lost over the millennia. So where once there were pastures, olive trees and vineyards, today there are fields of hay, olive trees and vineyards. Farms have decreased a lot but we are an example of how such a context can be adapted to modern life and also create a business opportunity. In fact, we live in a former disused farm, complete with stables and barn. The size of the fields is never exaggerated, allowing a more natural management of crops. There are several small farms also managed by young people, who are dedicated to the production of local products such as vegetables, legumes, olives and wine.
4.The Valley: Visiting Caiazzo and the Medio Volturno Valley means being able to really choose what kind of holiday to live. In contact with nature, exploring the history and culture of an area full of interesting elements, engaging in sports or perhaps a combination of all this and more. The historic villages of the whole valley retain architectural, historical, etc. elements of great importance and great charm. Ruined castles, fountains, Roman walls, bridges, palaces, squares…. so much to see and so much to marvel at.
If all this is not enough or perhaps it is too general a summary to be appealing, we invite you to explore the site, or you can write, call, and we will be happy to accommodate your requests.